Eramet Norway and Northern Lights announce collaboration
August 9, 2022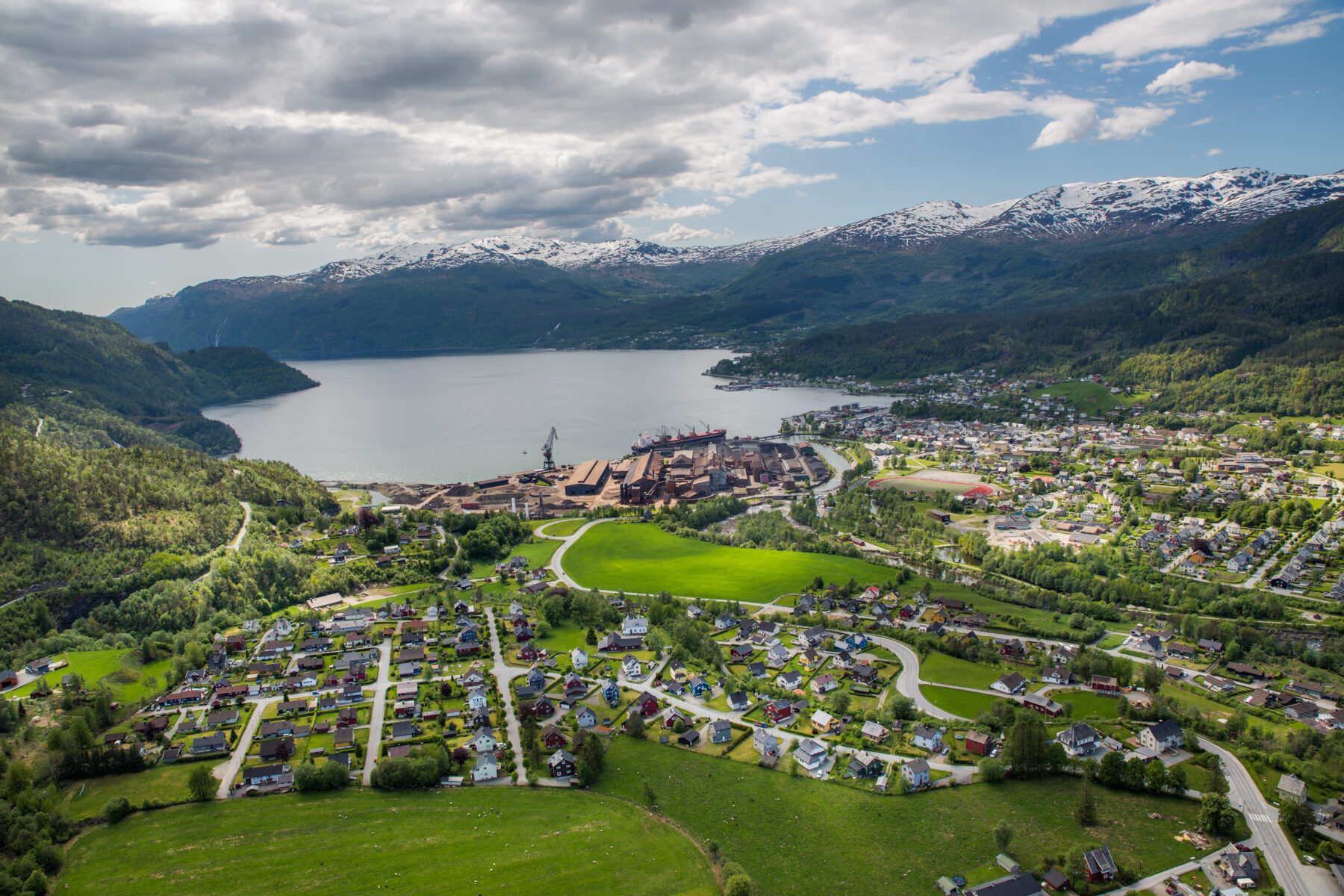 Eramet Norway and Northern Lights JV have today announced a Memorandum of Understanding (MoU) to collaborate on a project that aims to capture and store 70% of the CO2 emissions from the manganese smelter in Sauda, Norway. The MoU was signed at an event with the Norwegian Minister of Climate and Environment, Espen Barth Eide, in Sauda on Tuesday 9th August 2022.
The Eramet Norway project aims to use carbon capture and storage (CCS) to decarbonise smelting operations. The carbon capture pilot facility will test the suitability of Air Liquide's Cryocap TM technology for the preconcentration of ferromanganese flue gas from 2024. The plan is to install a full-scale carbon capture facility in 2028 and to reach maximum capacity utilisation in 2030. This entails capture of an estimated 260,000 tonnes of CO2 per year, using Northern Lights' infrastructure for transport and permanent storage.
Eramet Norway is a subsidiary of Eramet, a world-leading mining and metallurgical group. If the pilot is successful, it will pave the way for additional CCS projects in the Group and in the ferroalloy business. In addition to Eramet Norway's smelters in Sauda, Porsgrunn and Kvinesdal, the Group operates three other manganese smelters in France, the US and Gabon.
Bjørn Kolbjørnsen, Eramet Norway's board chairman, said: "Eramet Norway is today among the very best in our industry with respect to climate footprint, with CO2 emissions less than 40% of the industry average. However, our ambition is to reach carbon neutrality, and our climate roadmap contains specific projects to achieve this, whereof CCS and biocarbon as a replacement for fossil coke are the two main levers. While Eramet Norway stands firmly on the shoulders of its history, we aim to be in the very forefront of the green transition, creating new history based on Norway's renewable energy and a high level of competence."
Børre Jacobsen, managing director of Northern Lights JV, said: "Our CO2 transport and storage services will enable industrial emitters to take action on emissions that cannot otherwise be avoided. We are looking forward to working with Eramet Norway and Norwegian authorities to realise this important project. A key objective with the MoU is to collaboratively mature a technical solution for the transport and storage of CO2 from Eramet's facilities, to optimise logistics, and to map local and regional benefits and synergies of this CCS development which can also benefit other industrial emitters".
For the remote town of Sauda – like many one-factory towns around the world – a successful green transition is crucial. The first smelting activities in Sauda were started in 1923, using the plentiful hydroelectric power resources in the area, and the town's fortunes have risen and fallen with global demand. The smelter was acquired by Eramet in 1999 and currently directly employs 166 people, trains a large number of apprentices annually, supports a vocational school programme and contributes to maintaining a skilled and resourceful suppliers' market.
About Eramet Norway:
Eramet Norway is a subsidiary of the French mining and metallurgy company Eramet, being a part of its manganese alloys business activity, with smelters in Porsgrunn, Sauda and Kvinesdal, in addition to an R&D department in Trondheim. The company is a world-leading producer of manganese alloys for the global steel industry. Steel, and thus also manganese alloys, remains vital to the green shift. Eramet Norway has more than 530 employees and a total turnover of NOK 6.4 billion (2021). For more information, see www.eramet.no and www.eramet.com.
About Northern Lights:
Northern Lights is responsible for developing and operating CO2 transport and storage facilities, open to third parties, as part of Longship, the Norwegian Government's full-scale carbon capture and storage project. When it starts operations in 2024, it will be the first ever cross-border, open-source CO2 transport and storage infrastructure network, shipping CO2 to an onshore receiving terminal at Øygarden on the Norwegian west coast, before being transported by pipeline for permanent storage in a reservoir 2,600 metres under the seabed. In Phase 1, Northern Lights will provide CO2 storage capacity of 1,5 million tonnes per year. Construction of the infrastructure began in 2021 and will be completed in mid-2024. It is funded 80% by the Norwegian State. In Phase 2, Northern Lights will expand capacity to a total of well over 5 million tonnes of CO2 per year. This phase will be largely commercially funded; funding for studies have already been awarded under the EU Connecting Europe Facility (CEF) scheme. The ambition is for Phase 2 to be operational by 2026. Northern Lights JV DA is a registered, incorporated General Partnership with Shared Liability (DA) owned equally by Equinor, Shell and TotalEnergies.
Media contact Eramet Norway:
Kåre Bjarte Bjelland
Director Strategy and Communications
+47 91 63 64 93
kare-bjarte.bjelland@eramet.com