Join us at the Northern Lights Summit 2022
May 3, 2022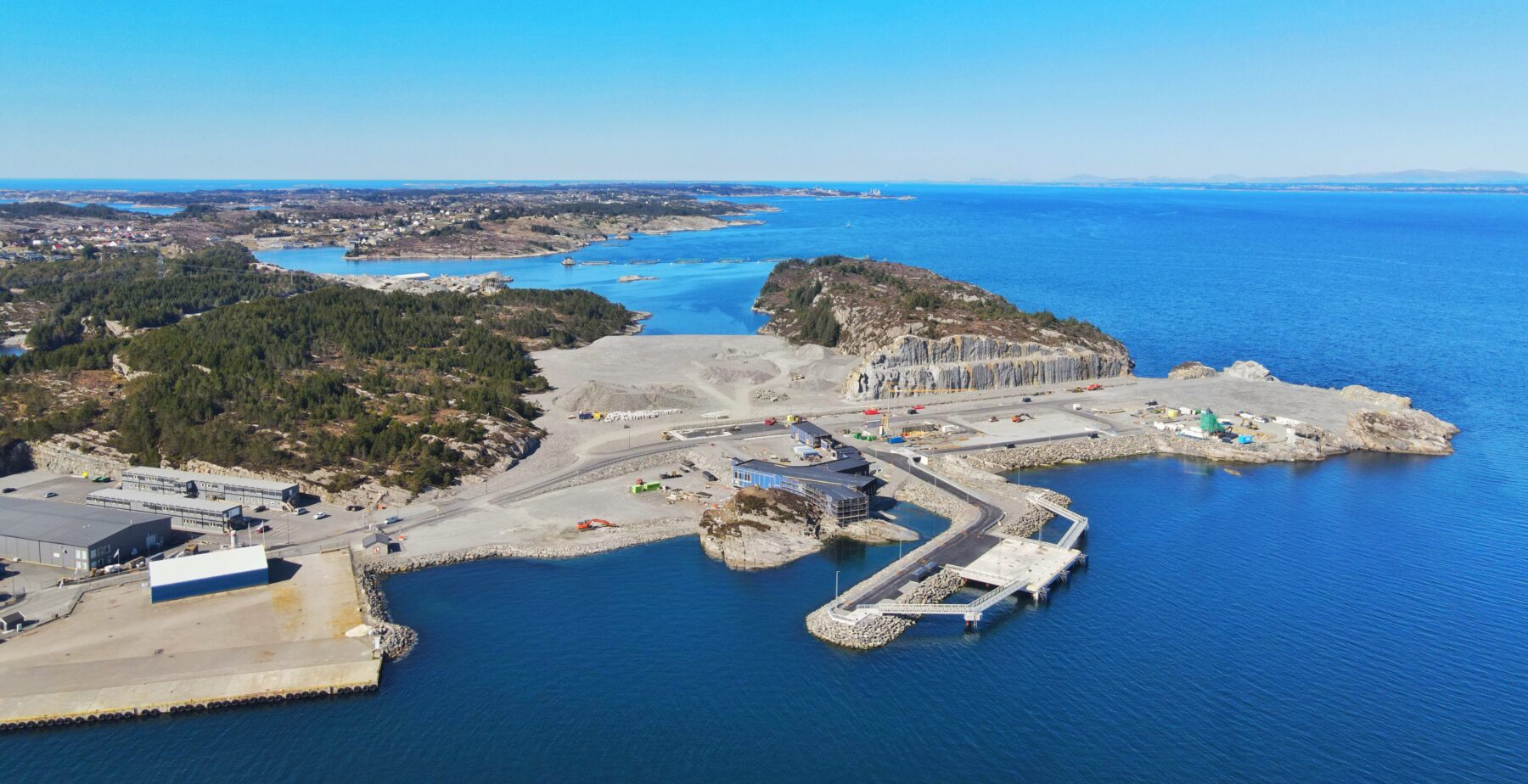 Photo: Construction of the Northern Lights' facilities in Øygarden. By Richard Leslie Valen Wilson, 22 April 2022.
When Northern Lights starts operations in mid-2024, it will be the first ever cross-border, open-source CO2 transport and storage infrastructure network, shipping CO2 from multiple European ports to Norway, where it will be stored permanently in a reservoir 2,600 metres under the North Sea. With construction on track, there is growing interest from industrial emitters and policy-makers across Europe.
The Northern Lights Summit 2022 will share progress and plans, while providing a high-level forum to discuss open questions.
Please click here to register.
Webcast recoring: Northern Lights Summit 2022.
AGENDA (Central European Time) 
Discussion facilitator: Gabrielle Walker, Founder, Valence Solutions
09.00 Welcome and introduction
Gabrielle Walker, Founder, Valence Solutions
09.10 On track for 2024: update on Northern Lights and Longship progress
Northern Lights/Longship is the only CCS hub currently in construction and it's on track to start injecting CO2 from mid-2024. In this session, we share progress on the project, from ships to storage capacity and capture, and discuss the evolution of the CCS value chain.
Panel:
Børre Jacobsen, Managing Director, Northern Lights
Jean-Philippe Hiegel, Strategy & Market Director, Northern Lights
Sverre Overå, Project Director, Northern Lights
Giv Brantenberg, General Manager, HeidelbergCement Northern Europe
09.40 How can Europe and Norway cooperate to scale up the CCS market?
Norway accounts for around a third of the CO2 storage resources in Europe and has years of experience with CCS. In this session, we explore how Europe and Norway can cooperate to scale up the storage capacity and develop a market for CCS, building on experiences with Northern Lights and the Longship project.
Keynote speaker:
Terje Aasland, Minister of Petroleum and Energy, Norway
09.50 CO2 capture – who, when, how?
Northern Lights cannot be a success without the development of robust demand for CO2 transport and storage as companies implement net zero strategies. In this session, we focus on approaches to carbon capture – and talk to potential customers about how Northern Lights fits into their overall strategy.
Panel:
Magnus Ankarstrand, President, Yara Clean Ammonia
Neil Carr, President, Dow Europe
Valborg Lundegaard, CEO, Aker Carbon Capture
Frederik Pieters, Staff site management, BASF Antwerpen
10.40 Break
10.55 The role of CCS in Europe's decarbonisation
Now that CCS is becoming a tangible reality, governments in many countries and companies in many sectors are looking at the role it could play in decarbonization – both now and in the future. In this session, the CEO of Rystad Energy will present ground-breaking new research on the potential roll-out and impact of CCS as Europe decarbonises, setting the scene for our upcoming discussions.
Keynote speaker:
Jarand Rystad, CEO, Rystad Energy
11.05 Building critical infrastructure for a net zero Europe
The development of Northern Lights is prompting a rethink about what specifically is needed to achieve net zero across Europe. In this session, we explore the cross-border infrastructure and institutions needed to support the deployment of CCS – and the policy in place and under development to incentivise it.
Moderated discussion:
Erik Rylander, Head of Carbon Dioxide Removal, Stockholm Exergi
Chris Bolesta, CCUS Policy Lead, DG Energy, European Commission
Dougie Sutherland, CEO, Cory
Martijn Smit, Business Development Director, Northern Lights
11.45 Carbon removals: what's the same as CCS, what's different?
The latest IPCC report said removing carbon dioxide from the atmosphere was now "unavoidable" – not just in several decades to neutralise residual emissions, but now alongside robust decarbonisation to keep 1.5 alive. In this session we look at the relationship between removals and geological storage and look at how removals can be certified, measured and monitored.
Panel:
Amy Ruddock, VP Europe, Carbon Engineering
Fabien Ramos, Policy Officer DG Climate Action, European Commission
Eve Joseph, Sustainability Customer Lead, Microsoft
Dirk Nuber, Managing Director, Climeworks Germany
12.20 Northern Lights: the way forward
As the European CCS market and ecosystem develop, Northern Lights is already working on its expansion options once Phase 2 is completed by 2026. In this session, Northern Lights JV owners reflect on what they have heard and discuss their strategies and aspirations for Northern Lights and for CCS more broadly.
Panel:
Bruno Seilhan, VP CCS, TotalEnergies
Svein Skeie, SVP New Value Chains, Equinor
Syrie Crouch, VP CCS, Shell
12.55 Round-up
13.00 Lunch
Webcast link: Northern Lights Summit 2022.
Northern Lights is the first ever cross-border, open-source CO2 transport and storage infrastructure company, developing the transport and storage component of Longship, the Norwegian Government's full-scale carbon capture and storage project. We are on track to start operations in mid-2024.