Prime Minister opens Northern Lights visitor center in Øygarden
October 18, 2022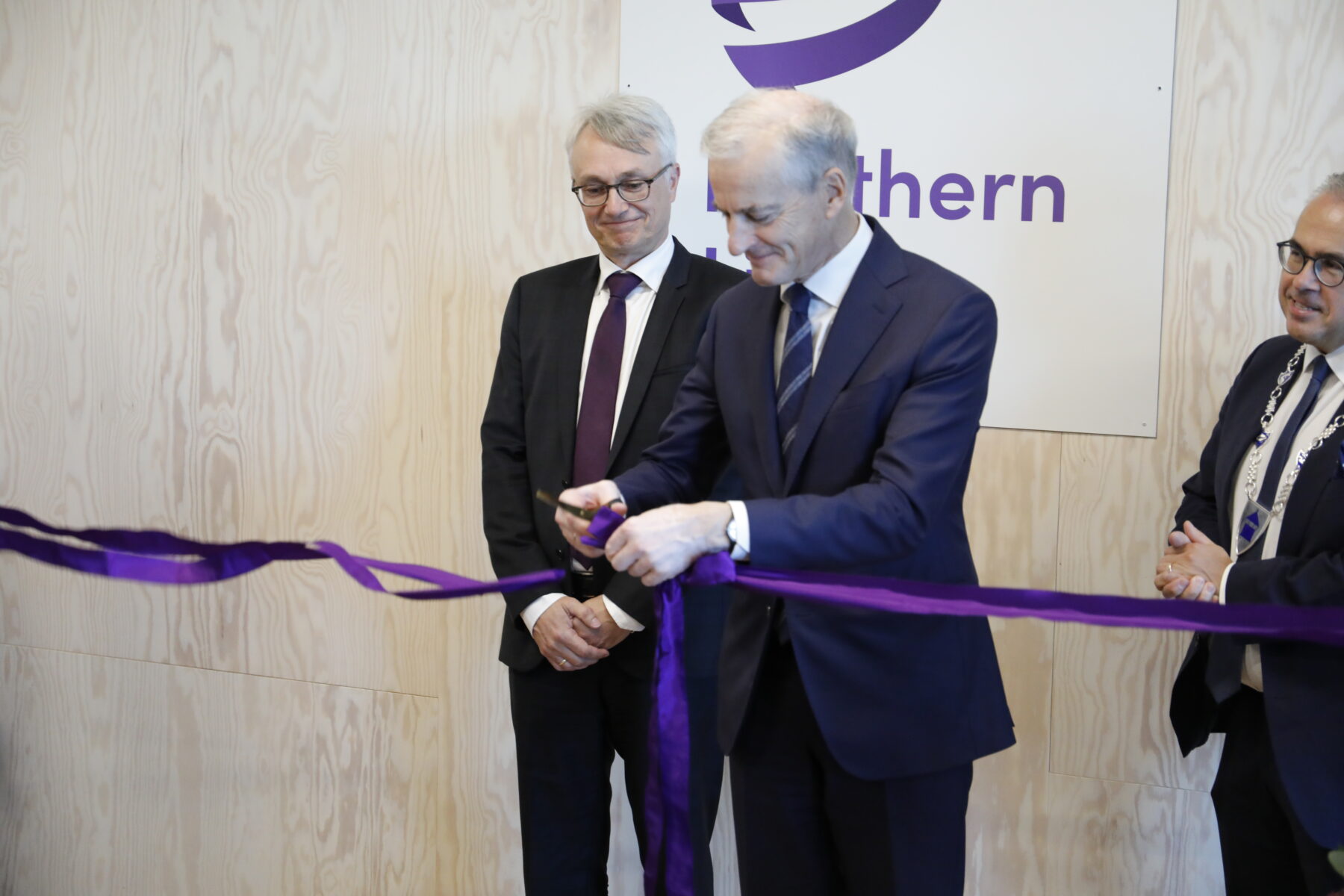 Today, Prime Minister Jonas Gahr Støre declared open the Northern Lights visitor center and administration complex in Øygarden, Norway. While developing and operating the first infrastructure for commercial CO2 transport and storage, the visitor center will function as a demonstration arena for this and future CO2 storage projects.
"CCS is a key factor in reaching our climate goals and the Northern Lights project is groundbreaking for the decarbonisation of European heavy industry. Today marks the next step in establishing a market for cross-border carbon transport and storage as a service", said Prime Minister Jonas Gahr Støre.
The opening of the visitor center and administration complex marks an important milestone for Northern Lights, who have already welcomed more than 1500 visitors to its construction site, including industry players and policy makers from all over the world.
"Northern Lights is a first and we want others to follow. The visitor center plays an important part in sharing knowledge and experience from Northern Lights and the Longship project for future CO2 storage projects globally", says Børre Jacobsen, Managing Director of Northern Lights.
The Prime Minister and guests of the opening ceremony received a tour of the construction site where the jetty, receiving terminal, intermediate storage, and landfall for the pipeline to the offshore injection site is currently being developed. According to Project Director Sverre Overå, the facilities are about 65% completed and are on schedule to receive and store 1.5 million tonnes CO2 per annum in 2024.
In August, Northern Lights announced its first commercial contract with Yara to store 800.000 tonnes CO2 annually. In addition to the agreements to store CO2 from the carbon capture facilities Norcem and Hafslund Oslo Celsio as part of the Longship project, this fully utilises the storage capacity of the first development phase.
"Without CCS, reaching net zero is near impossible. We experience great interest and demand for our services. Moving forward, Northern Lights will continue to focus on delivering on our commitments for phase one by 2024, developing the a second phase of commercial expansion and further growth to meet market demand", says Jacobsen.
About Northern Lights
Northern Lights is developing an open and flexible infrastructure to transport CO2 from industrial emitters by ship to a receiving terminal in western Norway for intermediate storage, before being transported by pipeline for permanent storage in a geological reservoir 2,600 metres under the seabed. Operations are scheduled to start in 2024. The facilities are under construction and will enable Northern Lights to offer a safe and reliable shipping and storage service to industrial emitters from across Europe. With increased interest from industrial sectors in Europe, additional shipping and storage capacity will be developed as demand grows. Northern Lights JV DA is a registered, incorporated General Partnership with Shared Liability (DA) owned equally by Equinor, Shell and TotalEnergies.