Northern Lights awards third ship building contract  
September 1, 2023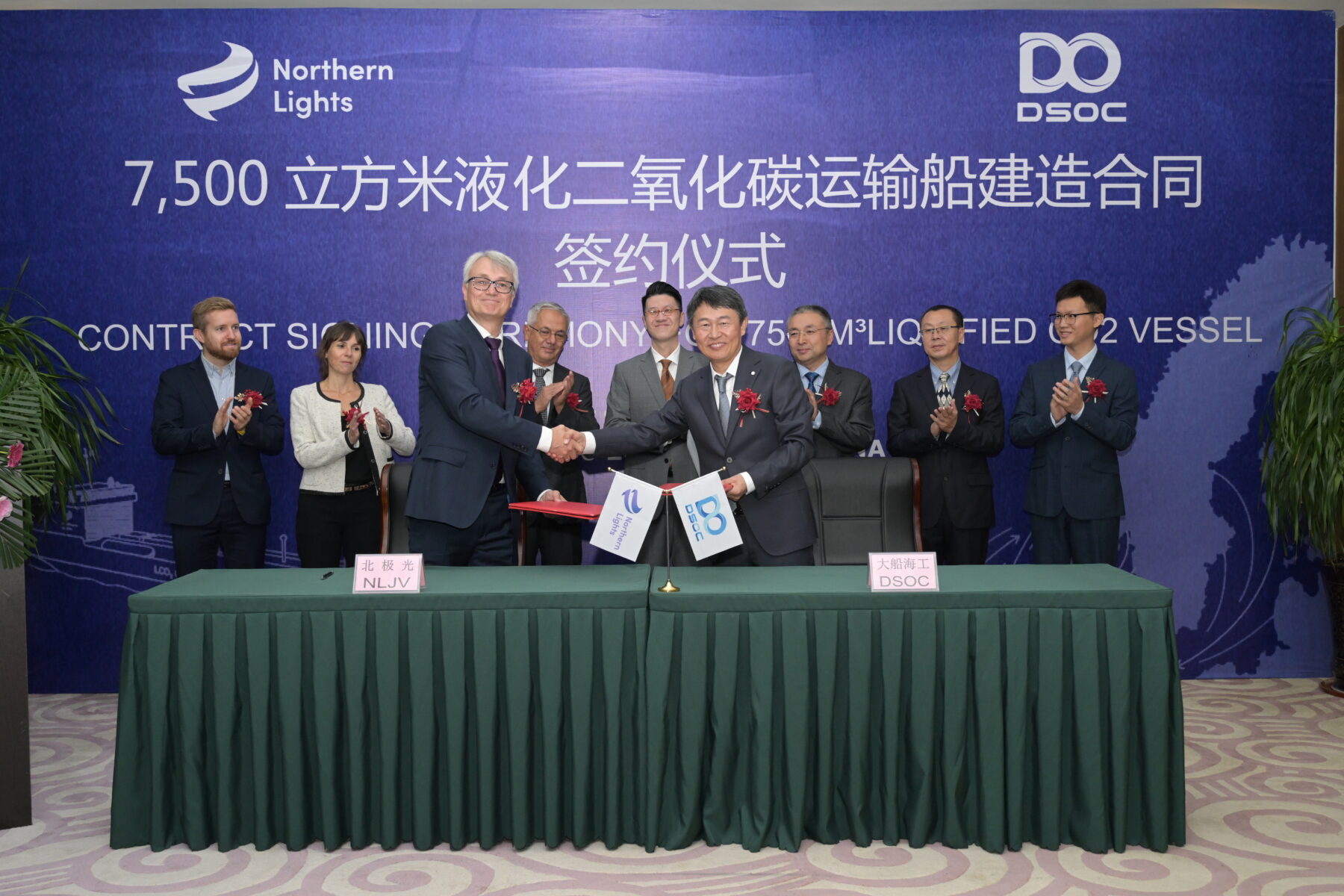 Today, Northern Lights announces the award of a shipbuilding contract to Dalian Shipbuilding Offshore Co., Ltd (DSOC). The contract covers the construction of Northern Lights' third CO2 ship and will cater to existing and new customers.
The third ship will be built at the DSOC shipyard in Dalian, China, where the first two ships are currently under construction. It will share the same characteristics as its sister ships and have a cargo capacity of 7,500 m3. The three ships are the world's largest dedicated CO2 ships, custom-built with pressurised cargo tanks for transportation of liquefied CO2.
The contract award was marked by a signing ceremony at the shipyard on August 30th, attended by Managing Director of Northern Lights, Børre Jacobsen.
"We are very pleased to announce that we are increasing our shipping capacity. Our shipping solution is scalable and provides the necessary flexibility to service industrial emitters across Europe. The award of a ship building contract for a third ship is a response to an increasing demand for cross-border CO2 transport and storage," says Jacobsen.
Northern Lights is developing a ship-based CO2 transport solution running on LNG fuel with a wind-assisted propulsion system and air lubrication. Thanks to these innovative technologies, the ships have a reduced carbon intensity compared to conventional solutions.
The contractor of the first three ships, Dalian Shipbuilding Offshore Co., Ltd is located in Dalian, Liaoning province, China. The shipyard is one of the leading shipbuilding and offshore EPC contractors in China.
"As the construction base for the world largest and first dedicated CO2 ships for Northern Lights, DSOC is honored to be the pioneer shipyard in the decarbonisation industry and to directly provide the CO2 shipping solutions for the increasing business of Northern Lights. Products in clean and environmental protection industry have now become our major strategy. As one of the most competitive offshore yards and the first yard to construct the dedicated CO2 ships, we have confidence and capability to deliver high quality products to Northern Lights, and build long-term strategic relationships in the upcoming future. DSOC will create more value to our clients by quality services and unremitting efforts." says Yingzhi Sun, Chairman of DSOC.
Once operational, the ship will load captured and liquefied CO2 from industrial emitters and transport it to the Northern Lights receiving facilities in Øygarden, Norway. From here, the CO2 will be intermediately stored in onshore tanks before transported through a pipeline to an offshore reservoir for permanent and safe storage at 2,600 m depth under the seabed.
Facts about the ship 
Capacity: 7,500 m3
Two cylindrical cargo tanks
Length: 130 meters
Cargo transport conditions: Approx. 15 bar(g) pressure and -26°C temperature
About Northern Lights
Northern Lights is developing the world's first cross-border CO2 transport and storage infrastructure. Delivering CO2 transport and storage as a service, Northern Lights enables mitigation of industrial emissions that cannot be avoided and accelerates the decarbonisation of European industry. Drawing on experience from over 25 years of CO2 storage on the Norwegian Continental Shelf, Northern Lights are at the forefront of developing CCS technologies. The company will transport liquefied CO2 from capture sites to an onshore receiving terminal in western Norway, before transporting it by pipeline for permanent storage in a reservoir 2,600 metres under the seabed. CCS is a necessary climate solution to decarbonise industry and reduce or remove industrial CO2 emissions. On schedule to start operations in 2024, Northern Lights offers safe and reliable CO2 transport and storage services to industrial emitters in Norway and across Europe. Northern Lights JV DA is a registered, incorporated General Partnership with Shared Liability (DA) owned by Equinor, Shell and TotalEnergies.
About DSOC
Dalian Shipbuilding Offshore Co., Ltd. (DSOC) is the most experienced and prominent EPC shipbuilding and offshore yard in China. With its registered location in Dalian, DSOC stepped into the global oil and gas industry in early 1970s and has become a well-established player in the market. Until now, over 100 offshore products have been delivered to the worldwide clients, including the LNG bunker vessel, liquefied gas carriers (VLEC), wind farm installation platform, and also oil and gas drilling and operation products, such as FPSO topside modules, semi-sub and jack-up drilling rigs. Now with the implementing of a series of CO2 ships for Northern Lights, the CO2 ships is becoming DSOC's main business.