Northern Lights celebrates keel laying of first two LCO2 transport ships
April 14, 2023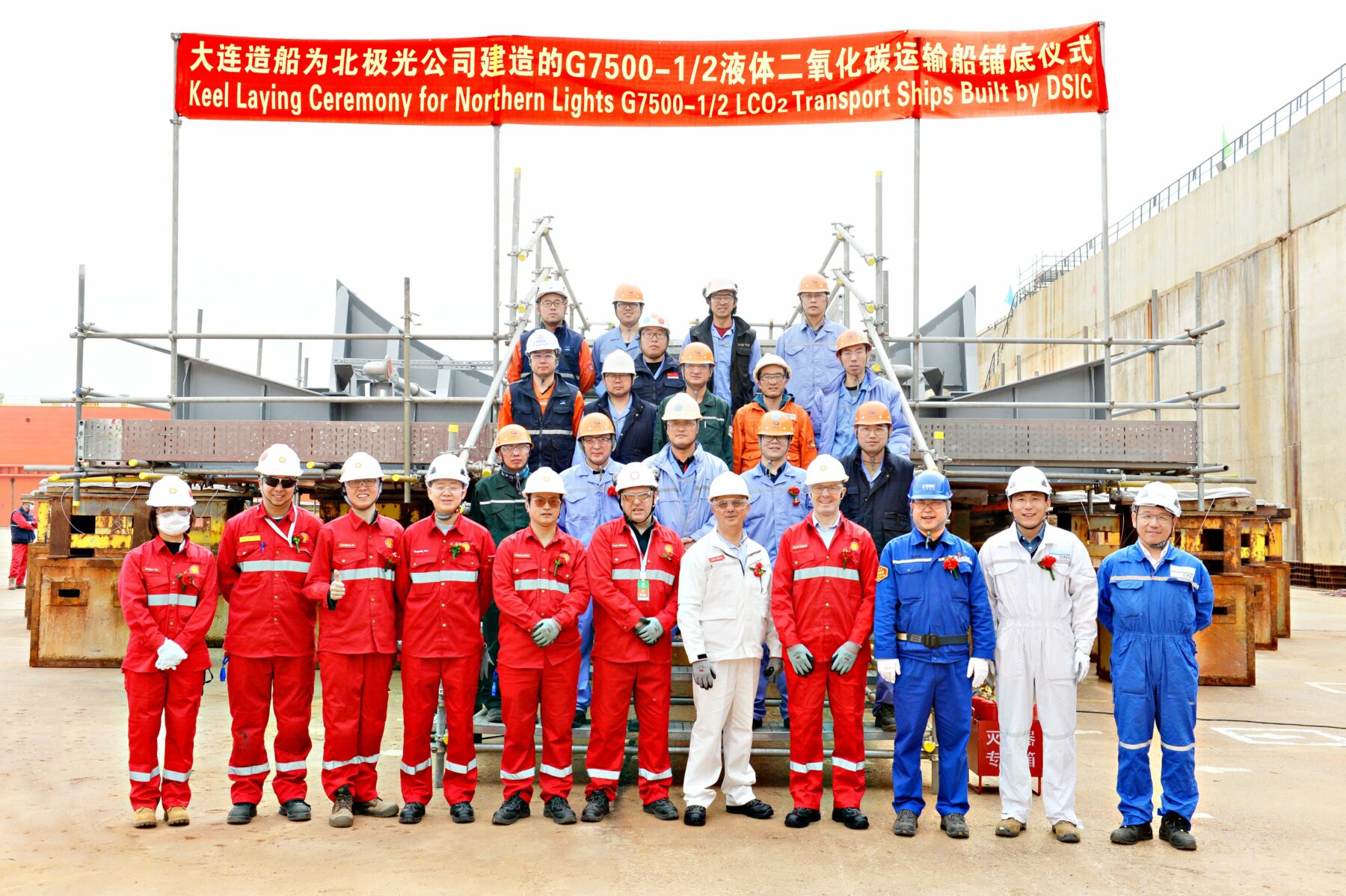 Today April 13th, marked the formal construction start of the first two Northern Lights ships with a keel laying ceremony at the Dalian Shipbuilding Industry Co. (DSIC) yard in Dalian, China.
Keel laying is a ceremonial recognition of the ship building start in the construction dock at the shipyard. The fabrication of the ships started in November 2022, with the first steel cut ceremony. The keel laying represents the placement of the first building block of a ship and is usually marked with a ceremony as one of the major milestones in the lifecycle of a ship.
"The keel laying is a major milestone in building the world's first large scale LCO2 transport ships. In 2024, the ships will be launched from the dock at the shipyard in China and will sail to the Northern Lights facilities in Norway, ready for operations", says Børre Jacobsen Managing Director for Northern Lights.
The ceremony was attended by Operations & Logistics Director at Northern Lights, Juan Charier, together with country representatives from owners Equinor, Shell, and TotalEnergies.
The ships will have a cargo capacity of 7,500 m3, length of 130 m, and will be operated by "K" LINE on behalf of Northern Lights. The ships are specifically designed to transport liquefied CO2 in purpose-built cargo tanks from industrial emitters in Norway and Europe to the onshore receiving facilities in Øygarden, Norway.
Northern Lights is the world's first open-source CO2 transportation and storage operator, ready to receive CO2 from European industrial emitters in 2024.
About Northern Lights
Northern Lights is developing the world's first open source and flexible infrastructure to transport CO2 from industrial emitters by ship to a receiving terminal at Øygarden, west of Bergen in Norway. The CO2 will be transported from the terminal by pipeline for permanent storage in a geological reservoir 2,600 metres under the seabed. Operations are scheduled to start in 2024. The facilities are now near completion and will enable Northern Lights to offer a safe and reliable shipping and storage service to industrial emitters from across Europe. With increased interest from industrial sectors in Europe, additional shipping and storage capacity will be developed as demand grows. Northern Lights JV DA is a registered, incorporated General Partnership with Shared Liability (DA) owned equally by Equinor, Shell and TotalEnergies.
About Dalian Shipbuilding Industry Co., Ltd.
Dalian shipbuilding Industry Co., Ltd. (DSIC) was established in 1898 with China State Shipbuilding Corporation Limited (CSSC) as its controlling shareholder. DSIC is providing full life cycle services from development, design, construction, repair, conversion, and green recycling of all kinds of ships and vessels. They are involved in conventional shipbuilding, offshore engineering, ship repair/green recycling and heavy industries.